If you're a moto junkie that has owned bikes new and old, then you know the love/hate relationship with those vintage machines.  You sure love them when they run right, and you can take them out. Yet, you get frustrated when they are down for the count and need some hard to source part.  Luckily for us the modern-day motorcycle is extremely reliable and now a lot of the big motorcycle manufactures have taken to bringing back those retro styled motorcycles we all love; but with the reliability and rideability of the modern-day motorcycle.  Sure, it may not get as many cool or tough guy points to ride on a 2019 Z900 compared to its vintage brother but when you can just press a button to start it and get on the road does that really matter?   I really don't think so!!   Let's look at some retro styled bikes coming out in 2019.  These are the top 5 bikes that get me excited for motorcycling in 2019!
1 -Royal Enfield Continental GT and Interceptor 650
Royal Enfield really hit it out of the park with the introduction of their 650 Twins.  Not only do they have that classic style, but they also come at an incredible price point.  They are really going to shake up the middleweight market with these bikes.  The Continental GT comes in with an MSRP of $5,999 and the Interceptor has an MSRP of $5,799.   For under 6 grand I think you will be hard pressed to find a bike with this kind of style and power.   They didn't just up the power with these twins they also tuned up the suspension for a sporty ride to really complete the whole package.  I really can not wait to try one of these out once the snow melts here in Milwaukee.
2 – Honda Monkey 125
There was no way I would make a top 5 list and not have some sort of Honda on it since I am a huge Honda head!  The little Honda Monkey checks all the right boxes for fun, spirit, looks and reliability.  This bike is based off the already popular Honda Grom platform, which I own and love, but gives it a retro style.  This bike will be a hit with anyone that grew up riding the old Honda trail 70s and 90s.  The monkey comes with a 125cc motor and weighs in at about 232 lbs.  This mini-moto will be an absolute blast on the city streets and even some light trail riding.  Head to your local Honda dealer to check one of these out and bring back some of those old school memories.
3 – Kawasaki W800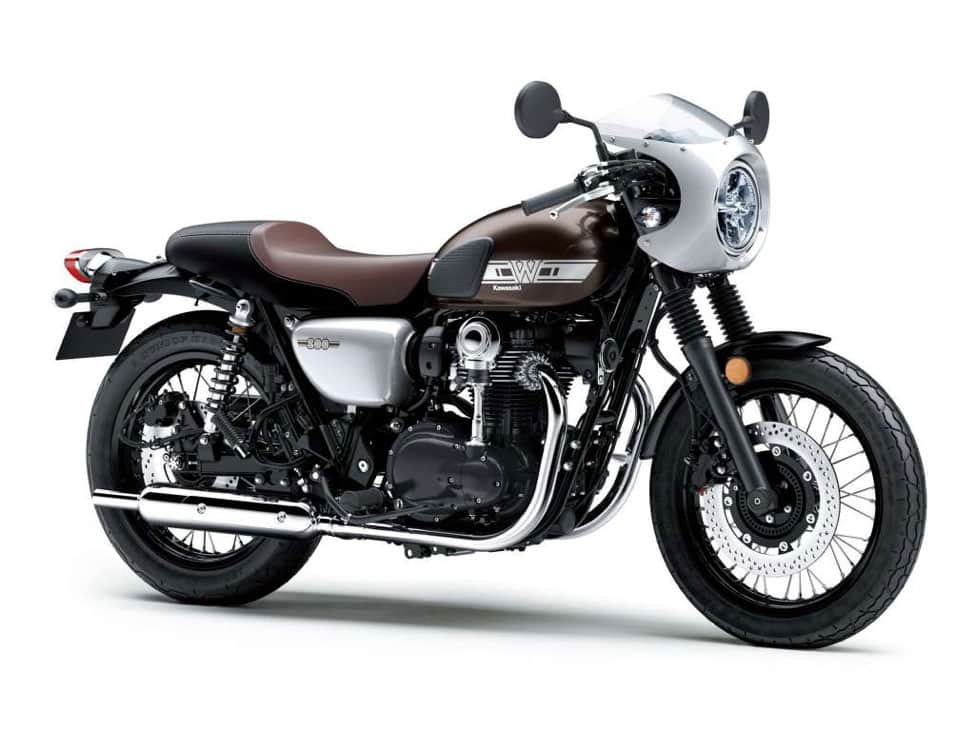 Kawasaki really brought the heat for 2019 in the retro style bike market offering multiple retro styles in their lineup.  The W800 is a throwback to the famed Kawasaki W1 of the 1960s that inspired such legends like the Z1 and Ninja H2. Bosting a 773cc parallel twin motor, and Café style riding position will make this a super fun ride on those winding country roads or if you just want to cruise downtown to the local watering hole with your buddies.  In my opinion this bike is the best-looking throwback and keeps that true Café spirit alive in the modern era!  Once my local dealer has one to test ride I will be giving them a call.
4 – Ducati  Scrambler Café Racer
If you are a moto head in any way shape or form you have seen the original Ducati Scrambler around for a bit now and you know how great of a machine they are.  For 2019, Ducati decided to expand the scrambler line and include a Café Racer inspired bike.  I mean just look at that thing! It looks like it could be straight from the 1960s with a leather clad rider trying to hit the Ton on it!  Being a Ducati, you know its going to be quick and handle like a dream, only now you can have the cool retro look while getting those knees down low in the corners!  Head over to your local Ducati dealer and check it out for yourself.
5 – Kawasaki Z900RS Café
Last but not least on my list is another Kawasaki.  Kawi really embraced the retro styled bike over the last few years and the Z900RS has been a hit.  Especially now with the Café version they bumped up the retro style one more level than the standard RS.  With an inline 4-cylinder 948cc this bike is a power house of the retro series.  It's set up for some serious riding, dual disk front brakes, aggressive seating position, inverted front forks and adjustable rear shock will make this bike ride and handle like a dream.  I have been a fan of the original RS since it came out and now, they just made me more of a fan with this version.  Keep an eye on the streets for these bikes to be tearing it up!
2019 is shaping up to be an amazing year for the Motorcycle Industry as a whole.  Retro bikes always have a special spot in my heart.  I have personally owned multiple 1970s Hondas and loved them all.  I really love the idea of modern bike reliability mixed with old school passion and style.  I hope you enjoy my top picks of retro bikes in 2019. I know there are more out there but wanted to keep it to 5.  I would love to hear what bikes you are looking forward to hitting the streets this year.  Find us on our Facebook and let us know what motorcycles you are looking forward to in 2019!
See you on the road!
Mike Rasmussen
HAULBIKES Moto Nerd
Get a HAULBIKES Shipping Quote